Northwestern Mutual
The Cornerstone of Retail and Business
Garrett Mahaney
Partner, Paine & Associates
918-481-5380 ext.11
garrett@paine-associates.com
New Class A Office Space Available (3500 SF to 22,000 SF)
Retail/Restaurant Space Available (3500 SF)
Leased Office Space (324,326 SF)
1,152 Weekend Parking Spaces Available
Ample Street and Garage Parking Available
Front Door to BOK Center
Strongest Daytime Population in Tulsa Market (32,500 Daily)
Convenient Access
24-Hour Security and On-Site Management Team
Adjacent to  Cimarex Energy
Home of Northwestern Mutual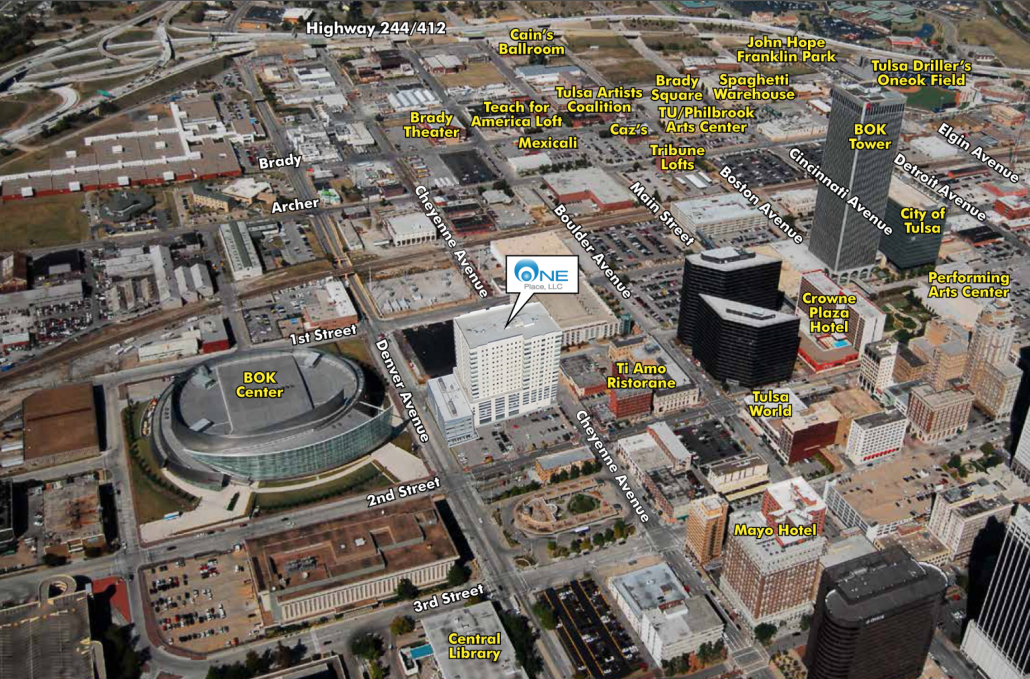 Northwestern Mutual – Second Floor Plan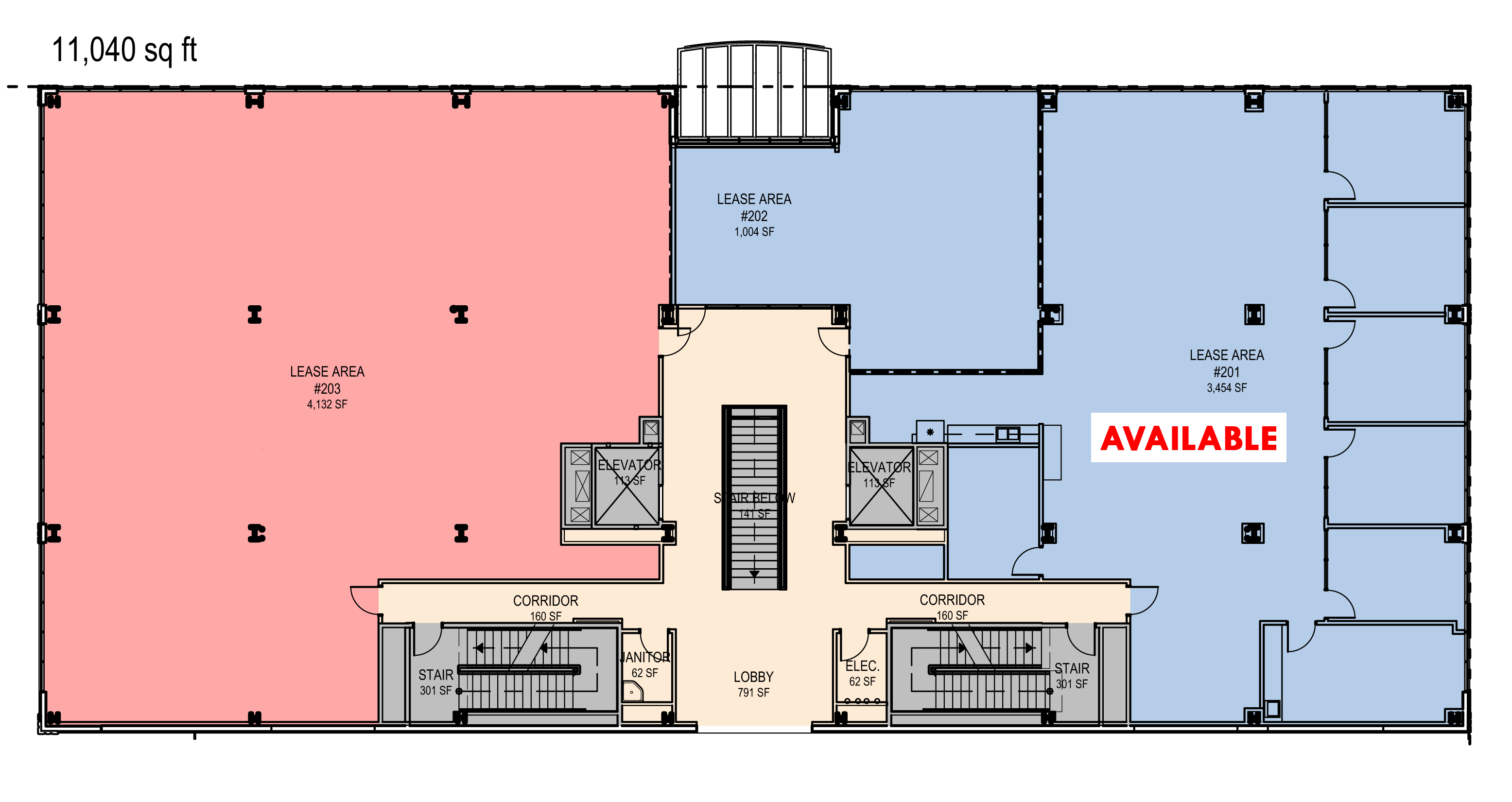 Northwestern Mutual – Third Floor Plan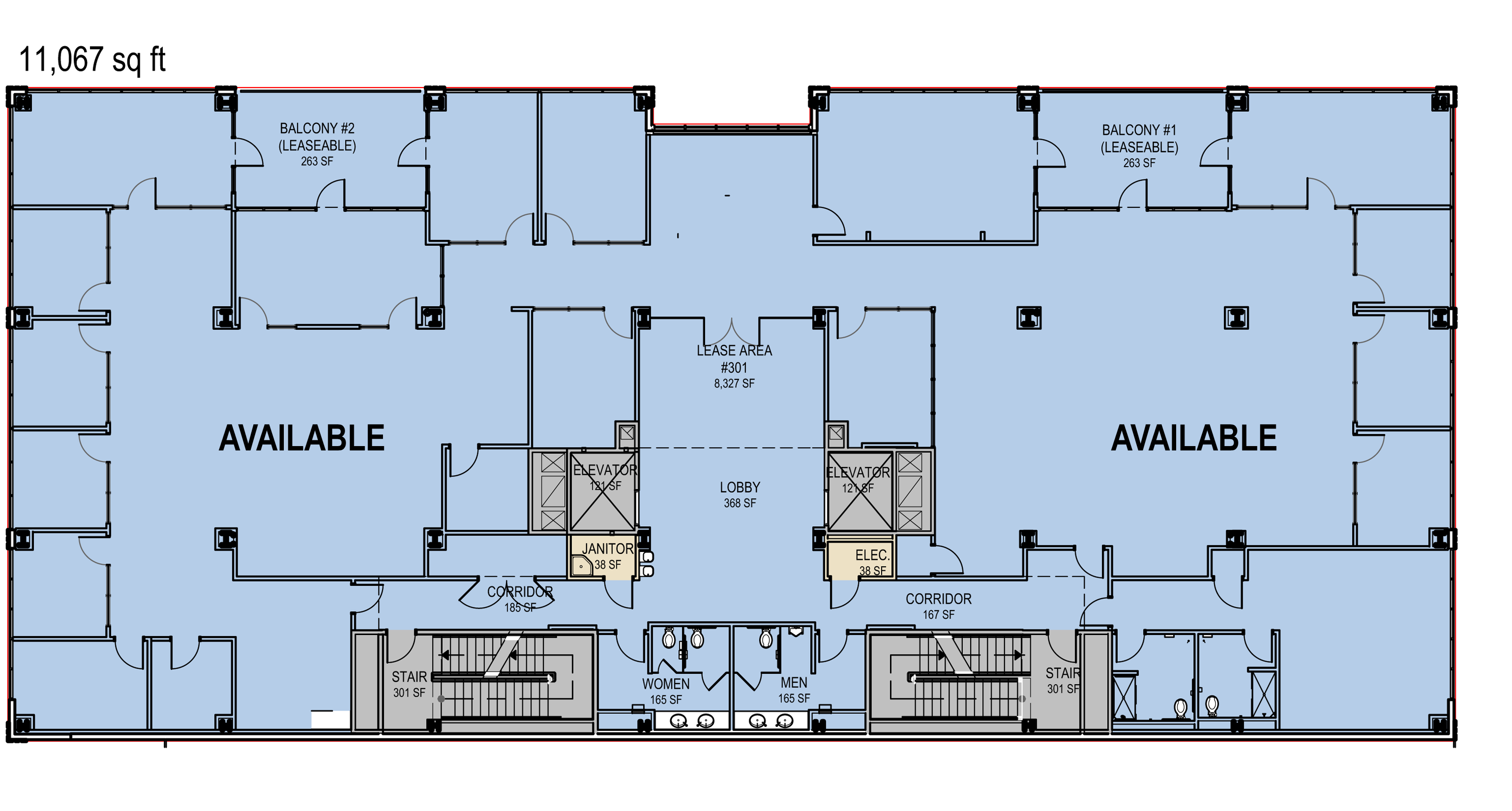 Downtown Tulsa is the Place to Be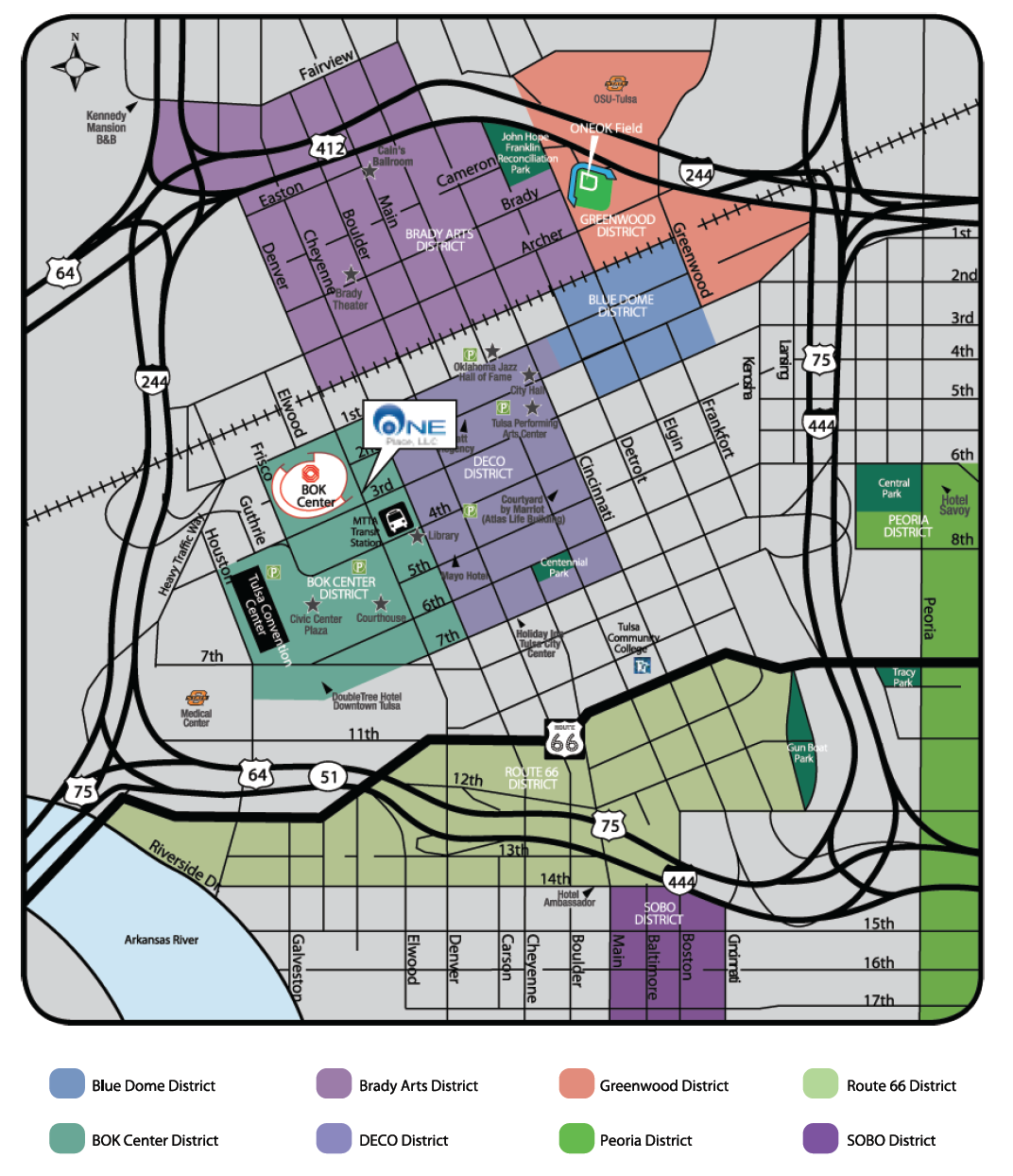 One Place Tower
Located in the BOK Center Entertainment District, the $100+ million mixed-use development is at the front door of the iconic, world-class BOK Center. The area features office, residential, hotel, retail and event space. One Place Tower offers a unique tenant opportunity to locate within Downtown Tulsa's newest and largest private development.
Bustling Downtown Tulsa
In the past decade nearly $500 million has been invested in downtown Tulsa. The 18,000 residential population within a one mile radius combined with the thousands of visitors that attend the 750+ annual events, the city's urban core draws consumers from the entire Tulsa MSA and beyond. An additional $350 million is being invested in projects in Downtown Tulsa. These projects include venues for the arts, hotels, office buildings, churches, public spaces, and more. The daytime workforce population is of 35,736 with 1,650+ businesses. Major employers that reside in Downtown include: AEP/Public Serve Company of Oklahoma, AT&T, Bank of Oklahoma Financial, Blue Cross Blue Shield of Oklahoma, ONEOK, Samson Williams, Cimarex Energy and Northwestern Mutual.
| Traffic Demographics | 2nd & Denver | I-244 North | I-244 E/W |
| --- | --- | --- | --- |
| Daily Traffic Counts | 8,060 | 66,530 | 146,530 |
| Tulsa Demographic | 5 Minutes | 10 Minutes | 15 Minutes |
| --- | --- | --- | --- |
| Population (2012) | 29,769 | 142,082 | 293,520 |
| Daytime Population (2012) | 60,001 | 120,641 | 255,756 |
| Average HH Income (2014) | $48,907 | $54,146 | $54,419 |
| Average Age (2014) | 39 | 37 | 37 |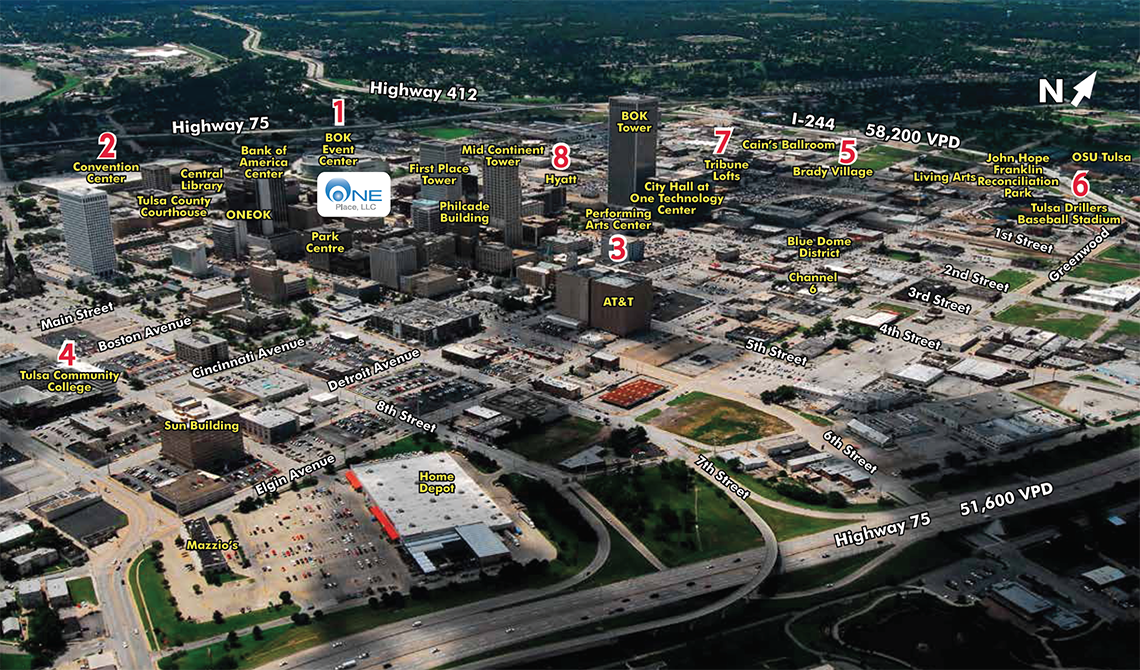 Current and Announced Projects in Downtown Tulsa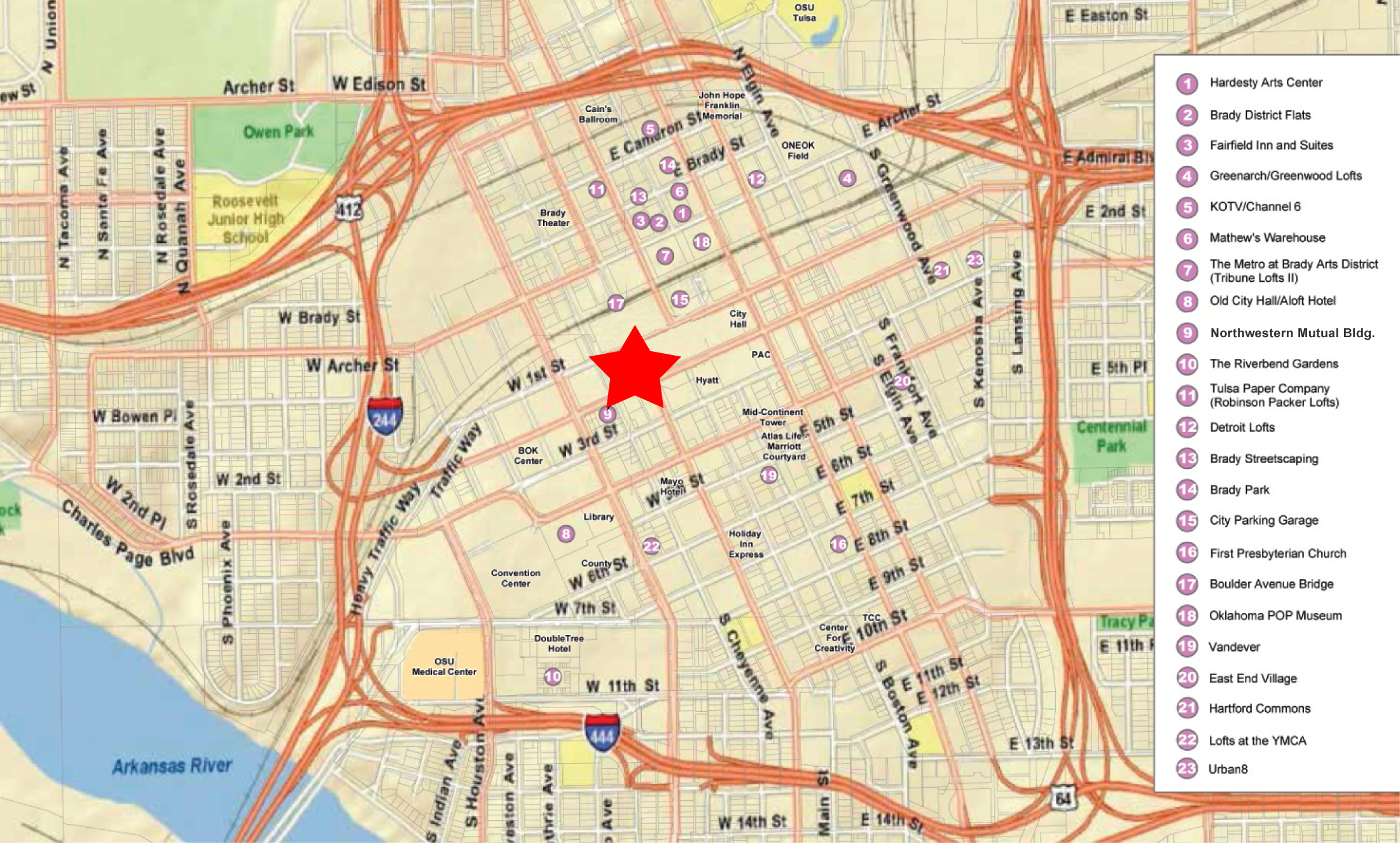 Forbes Magazine recently ranked Tulsa in its top 10 for U.S. cities, including: #5 most livable U.S. city, #6 best city for job environment, #7 best city for U.S. income growth and #10 best city in the U.S. for cost of living.
Tulsa is a dynamic place offering the fifth-lowest cost for doing business in the U.S. In turn, Tulsa's workers benefit from the second shortest commute time in the nation, and the cost of living is almost nine percent below the national
average.
Oklahoma ranks No. 1 in the nation in early-childhood education, and the state and Tulsa area public schools are national leaders in the number of board certified teachers.
Tulsa is the seat of the University of Tulsa, The University of Oklahoma/Tulsa, Oklahoma State University/Tulsa, Oral Roberts University, Tulsa Community College and Langston University along with several other institutions of higher learning.
The BOK Center – 19,199-seat arena houses the WNBA-franchise team, the Tulsa Shock and Double A professional hockey team, the Tulsa Oilers. BOK Center concerts have featured Paul McCartney, Billy Joel/Elton John, Eric Clapton, Tim McGraw, Celine Dion and the Eagles.
ONEOK Field – $60-million-ballpark project, which is the home to the Tulsa Drillers, the city's Double A affiliate of the National League Champion Colorado Rockies.
River Parks – Tulsa's River Parks runs adjacent to the Arkansas River, with more than 26 miles of surfaced recreational (e.g. hiking, biking, and running) trails.
Tulsa Museums – Tulsa is home to several unique museums including the Philbrook Museum of Art. Additionally, the Gilcrease Museum is home to the world's largest collection of American Western art.
Performance Arts – The Tulsa Performing Arts Center offers live performances of local productions along with national touring shows. The Tulsa Opera and Tulsa Ballet are both favorites in performance art.